MAZDA Promotion Car Hood Replacement
This Month
- The Hood Guys are offering the following: -
Mazda MX5 Mk I & MK II Hoods FULLY FITTED, while you wait. - Due to supply chain issues please contact us for pricing.
These Mazda MX5 Mk1 & Mk II hoods are manufactured in black Cabrio grain vinyl material (as original) incorporating fully welded and stitched seams and a zipped window. The glass windows will provide clear vision for the life of the hood. The price shown is for fitment at our premises here in Birmingham.
We can complete the work on your vehicle within approx 2 ½ hours, therefore we are happy to offer this as a while you wait service subject to booking an appointment. To book Tel: 0121 444 2288.
For alternative fitting options please telephone 0121 444 2288 or contact us via our contact form.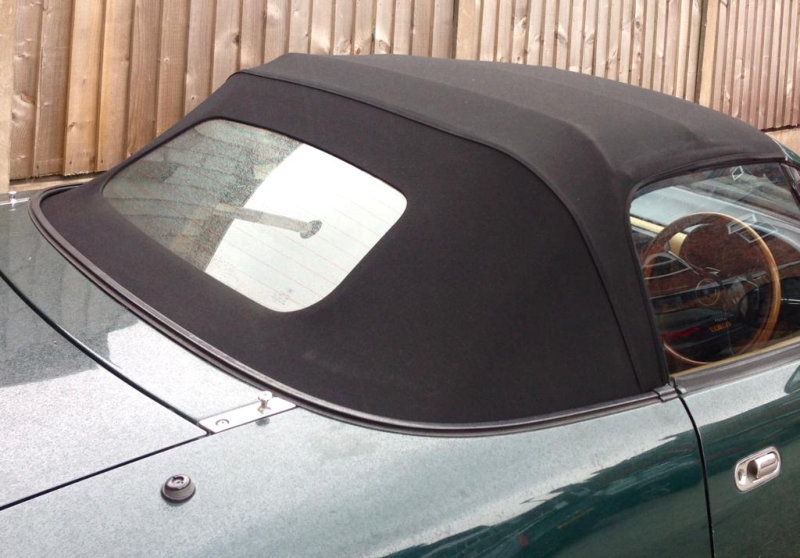 Why Choose The Hood Guys?
A long history of fitting hoods, in the unlikely event of a warranty issue you have somewhere you can come back to.
The Hood Guys have a well established reputation and do a lot of trade work.
Porsche Boxster 986 Heated Glass Rear Window Hood upgrade
The original Boxster 986 (up to 2002) was manufactured with a flexible plastic screen, these frequently suffer from cracking in cold weather, opacity and scratching. The replacement hood upgrade features a heated glass window with connector that plugs directly into hard top heated screen socket, controlled by the existing switch on the dash.
For current pricing please telephone